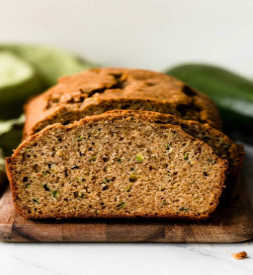 Zucchini bread can be eaten in summer, fall, or winter. It is a great dessert that adds bread and sugar together, even vegetables. Below is an easy recipe for homemade zucchini bread. 
Ingredients –
1 and ¾ cups all purpose flour
1 teaspoon baking powder 
½ teaspoon baking soda 
½ teaspoon salt 
1 and ½ teaspoons ground cinnamon 
¼ teaspoon ground nutmeg 
½ cup vegetable oil, or melted coconut oil 
½ cup packed light or dark brown sugar 
½ cup granulated sugar
2 large eggs at room temperature 
¼ cup unsweetened applesauce (or sour cream or Greek yogurt)
2 teaspoons pure vanilla extract 
1 and ½ cups shredded zucchini 
Optional: 1 cup semi-sweet chocolate or milk chocolate 
Instructions – 
Preheat the oven to 350 degrees. Grease a 9×5 inch loaf pan.
Whisk the flour, baking powder, baking soda, salt, cinnamon, and nutmeg together in a large bowl until thoroughly combined. Set aside. 
In a medium bowl, whisk the oil, brown sugar, granulated sugar, eggs, applesauce (or other), and vanilla together until combined. Whisk in the zucchini.
Pour the wet ingredients into the dry ingredients. Gently stir or whisk until *just* combined; do not overmix. Fold in any optional add-ins like chocolate chips or nuts. Batter should be slightly thick. 
Spread the batter evenly into the prepared loaf pan. Bake for 55-70 minutes. Optional: Loosely cover the bread with aluminum foil halfway through to prevent heavy browning on the top. Baking times vary so keep an eye on the loaf. The bread is done when a toothpick inserted in the center comes out *mostly* clean with zero raw batter. 
Remove the bread from the oven and set on a wire rack. Cool in pan for one hour before removing from the pan. At this point, you may slice the bread, but it may still be warm so it may not cut evenly. 
Cover and store leftover bread at room temperature for 3-4 days, or a week in the refrigerator. 
Enjoy!
Cites 
https://sallysbakingaddiction.com/zucchini-bread/#tasty-recipes-67675