Recently, two Flagstaff Academy Alumni, Charlie Danko and Diya Mehta, were announced as two of the Top 300 Junior Innovators in the nation by the Junior Innovators Challenge by the Society for Science. This competition is extremely prestigious. Only the top 10% of Middle School level students are even allowed to compete. The Junior Innovators Challenge is one of the only large-scale national STEM Fair competitions that middle school students can compete in. There were more than 1800 entrants and Charlie and Diya were two of only seven Junior Innovators from Colorado that got into the Top 300! 
Charlie and Diya are both Freshmen, meaning that they were at Flagstaff just last year! Like all middle school students at Flagstaff, they were required to execute a STEM Fair project for their science class last Fall. From there, they competed in the Flagstaff Academy STEM Fair, at which they qualified for the Regional Fair. They saw huge success at the Regional Fair and qualified for the Colorado State Science and Engineering Fair. At States, Charlie and Diya's projects not only acquired a plethora of Special Awards, but also got second and third place overall! Diya's project received second place (in the state!) and Charlie's project received third place (in the state!)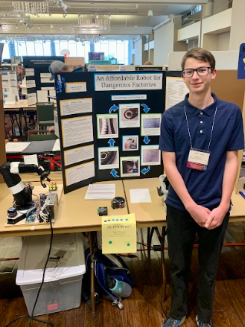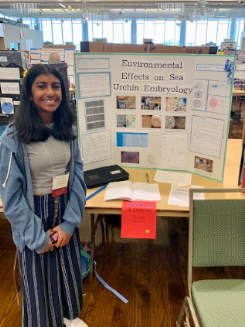 Charlie and his STEM Fair Project           Diya and her STEM Fair Project
I was able to get an interview with these two fabulous individuals. I asked them five questions:
What was your STEM Fair project?
Charlie – My project was An Affordable Robot for Dangerous Factories. 
Diya – For my project, I studied how environmental changes affect embryonic development of sea urchins. I put sea urchin embryos in different lights, sound levels, and temperatures and observed their development over 3 days.
What was the inspiration for your STEM Fair project?
Charlie – I really like mechanical, electrical, and software engineering, so I knew right away I wanted to do something that combined all of those topics. I then looked online for how I could help people and I came across the problem of dangerous factories. This topic perfectly combined all of my interests and it was saving lives at the same time. 
Diya – I read about how sound pollution, light pollution and temperature changes caused by humans and global warming affect marine life. I wanted to see if they had similar effects on embryonic development too.
How did it feel to find out you were selected as one of the Top 300 Junior Innovators?
Charlie – I was surprised and honored to be a part of the top 300. 
Diya – It felt pretty good and rewarding for all the hard work I put into the project. 
How are you feeling about representing your project and Flagstaff in the next stage of the competition?
Charlie – Flagstaff has been super supportive of my STEM journey and I am very excited to represent Flagstaff on a national level! 
Diya – I feel proud to have been chosen to move forward to the next stage and it motivates me to keep wanting to do more STEM projects.
All of Flagstaff is extremely proud of you. Is there anything you'd like to share with Middle Schoolers who are just starting this year's STEM projects? 
Charlie – I would say to definitely have your project relate to something you enjoy because it will give you more inspiration to work on it. I would also say to push yourself out of your comfort zone. You will never know what you can achieve if you don't.
Diya – You can learn a lot from working on STEM projects and learn a lot of new things. Never think your idea is silly or small. You can reach out to your teachers for help and be successful with your projects.
On September 20th, the Top 30 Junior Innovators will be announced. The Top 30 will get the opportunity to go to Washington D.C. and meet some truly amazing scientists and other famous innovators. We wish Charlie and Diya the best of luck. I'd really love it if you, my readers, could support them and show these amazing Flagstaff Alumni some love by commenting on this article and writing them a note of encouragement! 
Cites
https://www.societyforscience.org/jic/ 
https://www.societyforscience.org/jic/2023-top-300-junior-innovators/