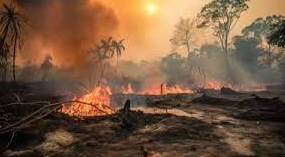 On August 8, 2023 at 6:00 am, in Hawaii, on the island of Maui, and in the small town Lahaina, a tragic fire broke loose. Prior to the fire there had been high wind warnings, from the category 4 storm Hurricane Dora moving across the Pacific Ocean. These high winds have led people to believe that a downed power line started the fire. Yet, officials don't even know the true cause of the fire! 
Many historical buildings and landmarks were destroyed in the fire, although one of the most important and memorable is the ancient banyan tree, which was planted on April 24, 1873. There is still hope that the tree will survive, because experts are still assessing the health of the root system and the tree's main trunks. 
As of today 9/25/, the death toll of the fire has reached 115 people, about 1,000 people are unaccounted for, 700 people are estimated missing, and more than 2,000 buildings were destroyed. Because so many victims have been left homeless, tourists have been asked to give up their vacation spot and help the Lahaina community with its recovery efforts. It is estimated that it will take many years, and 5.5 billion dollars to rebuild Lahaina. 
Cites
en.wikipedia.org