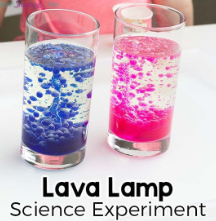 Here is a quick and easy way to make a lava lamp at home!
What You Need:
Clear plastic bottle with lid

Vegetable oil

Water 

Food coloring

Alka-Seltzer tablet

Small cup
Instructions : 
Fill the bottle three quarters of the way with vegetable oil.

Grab a small cup fill it up with water and and some food coloring
Fill the rest of the bottle with the water that has been coloured with food coloring.
Close the bottle lid tightly.

Wait for the two layers to settle.

Break the Alka-Seltzer tablet into small pieces.

Drop small pieces of the tablet into the bottle to create a bubbly fizzy lava lamp.
Have fun with your new Lava Lamp!
Cites :
http://roadtoscience.blogspot.com/