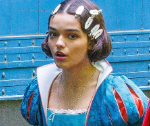 Disney has been remaking a lot of classics recently , but these movies tend to be causing discourse online. One of the new Disney movies that has been causing arguments online is the new Snow White movie coming out in 2024. Even though a lot of people think the movie is a bad idea, a handful of people think the movie could be great! This movie stars Rachel Zegler as Snow White and Gal Gadot as the Evil Queen.
One of the main reasons some people are a bit skeptical about the movie, is because of how Rachel Zegler is poorly promoting the Movie. In an interview with movie maniacs, Zegler says 
"The prince in the original Snow White is a stalker." She also states that her co-star, Andrew Burnap, who plays the Prince all of his scenes might be completely removed from the film. Most of the angry fans don't think that Rachel Zegler should have the part as Snow White at all. In an interview with her co-star Gal Gadot, Zegler says that she was terrified of the movie as a child and she didn't watch it again until she got the part. The Movie is also straying away from the plot of the original movie. Instead of Snow White being saved by her prince, this new movie focuses on Snow White doing everything on her own without a man. While both ideas are good, fans don't want this movie to be too different from the original. 
With all the drama that has been going on people are waiting till the movie comes out to see if their accusations are true. Disney wants this movie to empower young girls with this movie. Disney hopes that this movie has a positive impact on everyone who watches it and they hope that despite the negativity towards the movie people will enjoy it! Will Disney prove the haters wrong, or will they prove the haters right? You'll have to watch the movie when it comes out in March 2024 to find out!
Cites 
https://people.com/movies/snow-white-live  
https://nypost.com/2023/07/15/disneys-live-action-sn