Trump Indictment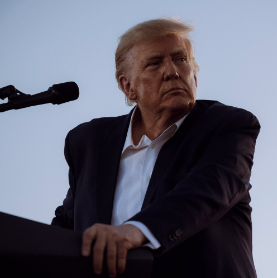 In this past month, it has been announced that former President Donald Trump is set to be arrested, and taken to court. He is the first President, either current or former, to be indicted so far. Also, it has been shared that he has over 34 felonies pending – not a light sentence. Although, many people are questioning these charges, as some are relating to hush money, and an affair. Some onlookers believe this to be personal – not a matter of court. On the other hand, these charges have actually been found to be linked to details pertaining to criminal offenses while Trump was in office.
Some of his offenses include hush money relating to scandals, business record inconsistencies, and tax evasion. All of this (and more) has brought on huge charges towards the former president. As the investigation is ongoing, new information has been found, and new charges are being pressed. Although we do not know all of the exact charges, they will likely be released in the near future. Despite all of this, he will not be legally prevented from being a presidential candidate for 2024. Trump has announced that he does plan to run. Though the indictment is still a sealed indictment, the main charges have been made public. 
The Charges
Although Trump was charged with 34 felonies he has pleaded not guilty to all of them. Among these many charges there is a $130,000 hush money payment to Stormy Daniels. Apparently this was not the only hush money scandal during his campaign; there were three. He was also charged with falsifying business records and violations of election and tax laws. Judges are struggling with how to rule this case because past trials are usually used as guidance on how to rule trials but this is the first time a case like this has appeared in court. 
In Court
During the trial, he tried the time testing strategy, attack and delay, meaning he lashed out at the judge which is delaying the case being closed. 
As the case has gone on, he argues that the charges are politically motivated. He says "This fake case was brought only to interfere with the upcoming 2024 election, and it should be dropped immediately." As stated in his speech was how upset he was about these charges. In court he has tried to show that it was a business deal. Court documents laid out three times in which prosecutors said Trump had put out information. His lawyer in court stated that the prosecutor has not made charges over hush files. Although, supporters, and even some critics, argue that the charges stretch to the limits of the law. The case is expected to last for much longer, as there is not much information. 
Because of this extensive list of offenses, the turnout of the upcoming 2024 election may be unexpected. As some have predicted, swing voters are less likely to vote for Trump if he is caught up in sensitive legal issues. Nothing is certain though. While this case has become highlighted due to hush money allegations, it may be based on more solid charges, such as false business records and tax issues. This case is quickly evolving, and nothing is for certain right now. This case could potentially drag on for months with no avail – or conclude relatively quickly. So, stay tuned.
Cites
NYTimes.com