Fox News vs. Freedom of Press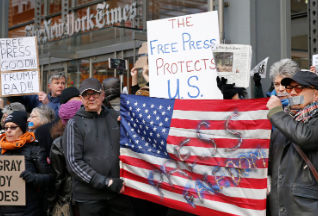 Recently, Fox News has been charged with spreading misinformation and sued for 1.6 billion dollars. Dominion Voting Systems sued Fox due to their allegations of biased voting systems. In 2020, the news outlet accused the company of rigging their machines against former President Trump. Both Dominon and Fox are under fire in the media right now for a few reasons. On one side, people are defending Fox's accusations against Dominion, calling it Freedom of Press. On the other hand, some people believe that this situation is pressing the boundaries of freedom of press – and possibly turning into straight up lies. Others say similar things about Dominion Voting Systems, claiming that they have been manipulating voting results.
Dominion has evidence that supports their point. They were able to get text messages and emails that uncovered the newscasters skepticism of what they were reporting. The big controversy, whether or not the 2020 election was tampered against Former President Trump, was a big topic in the emails and texts. Some newscasters doubted the news but still put the news out because they were worried about losing viewers to competitors. Even though Dominion has all of that evidence it isn't likely that they will win the case. The case will come down to a matter of what is considered free press. Since it had not been proven that there was no tampering with the election Fox can state that they were reporting their beliefs and the belief of the people at the time. 
Interestingly, the court has stated that Fox's claims about Dominion were false, so at this point the case is mainly over damages, rather than the reliability of these claims. Another thing being argued in this case is the intent of both parties, and if they actually intended the damage caused. Both Dominion and Fox have lost huge amounts of money because of this dispute. Among this chaos, Fox News ended up losing over 787 million dollars, and even letting go of their most well known news anchor, Tucker Carslon. While the media has stated that it was a mutual agreement that led to his parting – others speculate that he was fired due to alleged fault in certain parts of the lawsuit.
Cites
www.newyorktimes.com