Flagstaff Italy Trip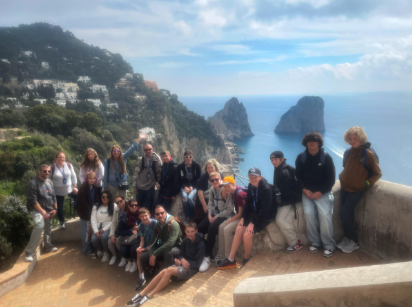 Flagstaff Academy and some of its Dragons took a trip to Italy, and explored its many great monuments, food, and culture. For some better insight, three Dragons who went on this trip were interviewed; Alexander Rainerie (7th Grade), Peyton Cross (7th Grade), and Owen Simon (8th Grade). Some teachers were also interviewed; Mr. Pugh, Ms. Pearce, and Ms. Rollman. 
Questions – 
What was the best part of your trip? 
What was the strangest thing you saw while in a foreign country?  
Was the culture of Italy like you had expected? Or different? 
What was the best part of your trip? 
Owen S. – "One of the best parts of the trip was when we visited Vatican City. All of the art, architecture, and history behind it was amazing to see and hear about." 
Peyton C. – "The best part of the trip for me was the day we went to Pompeii. It was just all so preserved and felt so surreal."
Ms. Pearce – "The best part of my trip was seeing the Colosseum. It was so large and impressive that it surprised me as I was walking up to it. They had a lot of displays within the walls of the building that showed what it used to look like and how they would construct open elevators to raise up several animals during a fight. It was staggering, really, to be standing in a place that you've only read about in books, to know hundreds and thousands of ancient people walked those same steps, saw the same sights, so long ago."
Mr. Pugh – "The best part was seeing student's reactions to what they were seeing and experiencing. Everyone has learned about Ancient Rome and Pompeii in school but feeling and seeing what it's like to be there is really cool. As an educator I love seeing students connecting it to real life so they know it's more than just something in a book. The last day was the first time we got to hangout with each other and have fun, although our flight was canceled. We played mafia for a few hours all together, I taught them. The parents were even playing; everyone was playing and having fun."
Ms. Rollman – "The best part of the trip was the Island of Capri and our boat ride on the Mediterranean Sea. Because we were on the water, it was a beautiful blue color and the landscape was amazing."
What was the strangest thing you saw while in a foreign country?  
Owen S. – "The strangest thing that I saw was all of the crazy scooters weaving between traffic."
Peyton C. – "The strangest thing for me was the number of designer stores we saw. Getting Gelato was also weird; we paid and then got our receipt, took the receipt to a person to get our gelato, but never got the receipt back, just the gelato."
Ms. Pearce – "Julius Caesar's ghost at the spot where he was killed. I didn't actually see the ghost as I was taking a picture, but after, the photo shows two ghosts. One, in the exact spot where he was killed, shows a glowing light. There were no lights there (or anywhere near there) and it did not show up in anyone else's photo. In the same photo, there's a shadow image of a girl on an old wall. I'm not sure who the girl is, but it was quite a freaky experience!"
Mr. Pugh – "Through books we think we have discovered everything, but we haven't. When we arrived at the Colosseum our guide spotted an area that was fenced off and said that that was weird. As we got closer we saw it was a team of scientists uncovering the bones of a lion killed by a gladiator hundreds of years ago. Turns out there's always more to discover!"
Ms. Rollman – "The trash all over the place. Literally. No trash cans, very few and far between. Not just rappers, it was bags of garbage."
Was the culture of Italy like you had expected? Or different? 
Owen S. – "I wasn't sure what to expect, but now I know that the people are super friendly, welcoming, and make really good food and gelato." 
Peyton C. – "The culture was a bit of both. Most people had a really thick accent which was expected. What was unexpected was their fashion. 90% of the people always looked nice."
Ms. Pearce – "The culture was very much like what I expected. Growing up, my friend's family came over from Italy and she would tell me all about it. So I knew it was a laid back culture of friendly people that LOVE their gelato and cappuccino!"
Mr. Pugh – "I had expected the culture of Italy because I've been there a lot of times. What was unexpected when we were in Naples was that the crowds were very overwhelming. Naples is the most densely populated city on the planet and it was just packed, loud, and chaotic. Overall overwhelming and unexpected, hard to stay together as a group too."
Ms. Rollman – "Different because mainly related to the food in that they thought we only wanted to eat pizza. That's what we were just fed, not always pizza but a lot of pizza. Breakfast was just bread too. People are generally friendly and most know English, that wasn't unexpected, that's just how it is. It's a very fun experience, if anyone gets to go on a trip like that."
Through these interviews we can see just how much fun the Italy trip was!!