St. Patrick's Day Cookies – March Recipes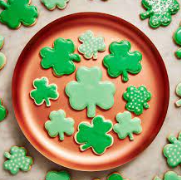 Ingredients (Cookies):
3 cups of all purpose flour, plus some extra for surface

1 teaspoon of baking powder

½ teaspoon of kosher salt

1 cup (2 sticks) of butter, softened

1 cup of granulated sugar

1 large egg

1 tablespoon of milk

1 teaspoon of vanilla extract
Ingredients (Icing):
5 cups of powdered sugar

⅓ cup light corn syrup

¼ cup milk, plus more for thinning

¼ teaspoon of almond extract (or vanilla)
Directions:
In a large bowl, mix together the flour, baking powder, and salt. 

In a separate large bowl, beat the butter and sugar together until fluffy and light in color. 

Add the egg, milk, and vanilla extract, and beat until mixed well. Then add in the flour mixture gradually, until all combined. 

Shape into a circle and wrap in plastic. Refrigerate it for one hour. 

Once you are ready to roll the cookie out, preheat the oven to 350° and line two baking sheets with parchment paper.

Find a clean work space, and roll out dough on a lightly floured surface until the dough is ⅛" thick.

Use a shamrock cookie cutter to cut out the shapes and transfer them to the baking sheet.

Freeze for ten minutes.

Bake the cookies until lightly browned, this should take about 8-10 minutes. Let it cool completely. 

In another large bowl, combine the powdered sugar, corn syrup, milk, and vanilla extract. 

Add more milk, a teaspoon at a time, to thin out the frosting, if necessary. It needs to be thick enough, so that it can be shaped when outlining the cookies.

Add green food coloring to the icing until the desired color is reached.

If you want to use a piping bag, transfer about ⅓ of the icing into one with a small round tip. Then pipe around the edges of the cookie. If you do not, then use a knife or spoon to drizzle it around the edges.

Add one tablespoon of milk to the remaining icing to thin it out so that you can "flood" the middle parts of your cookies.

If necessary, add more milk one teaspoon at a time to thin it out more.

You can either use a piping bag, or a spoon or knife, just be careful. Let it dry at room temperature.

Enjoy!
Cites
https://www.delish.com/cooking/recipe-ideas/a30877659/st-patricks-day-cookie-recipe/