February Movie Reviews – Invasion of the Body Snatchers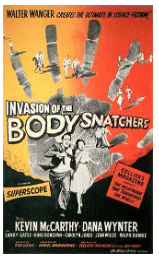 Invasion of the Body Snatchers is a film with many genres: horror, sci-fi, romance, and many more. In this movie, a small town doctor, Miles, has multiple reports coming in about relatives not being themselves. Going over to his friends Jack and Teddy's house with Becky (his girlfriend), he realizes some kind of alien form is taking over human's bodies. After investigating a bit more, he realizes the in-human forms are coming from plants. This is one of the better science fiction movies I have seen, and honestly, I really enjoyed it. Some of the actors starring in this movie are Kevin McCarthy, Dana Wynter, Carolyn Jones, and King Donovan. 
8th graders: Did you like this movie as well? What were your thoughts? Write in the comments below!!
Cites
https://www.filmsite.org/posters/invasionofbs.jpg