Super Bowl LVII – Chiefs' Victory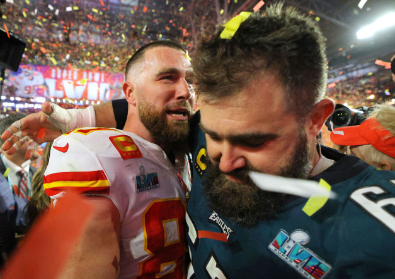 Each year millions of Americans tune in to watch the two best football teams in the country play for the fame and glory of winning The Super Bowl. Others may watch for the commercials, snacks, or the halftime show. Countless Americans enjoy this annual event. The two teams who competed this year were the Chiefs and the Eagles. The Kansas City Chiefs quarterback Patrick Mahomes is 27 years old and many believe to be the up and coming Tom Brady. He won his second MVP award during the Super Bowl though many feared he wouldn't even play. During a game against the Jaguars, he suffered an ankle injury when linebacker Arden Key landed on his ankle. Luckily Mahomes persevered and played in the Super Bowl even after receiving another tackle to the ankle. Jalen Hurts is the Eagles quarterback and has also had a strong season. He rushed 13 touchdowns this season, more than any other quarterback this year. Millions of Americans tuned in to watch these two evenly matched teams compete to be the champions.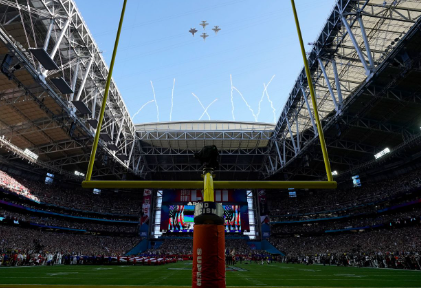 Rihanna shined bright like a diamond in the halftime show this year. She had 80 backup dancers, sang, and danced on one of five moving platforms in the air. Each of these floating stages were designed for the show in hope of protecting the grass. Every one of these stages was equipped with 512 lights that were synchronized to Rihanna's show. Some songs she sang were "Work", "We Found Love", "Wild Thoughts", "Where Have You Been", and "Rude Boy". Over 800 people worked together to make this Super Bowl Halftime Show possible.
The grass was very slippery and many of the Eagles players chose to change into different shoes. Players also struggled with referee calls that many disagreed with. One of these controversial calls was in the 3rd quarter with 1:45 second left in the game. With a score of 35-35, Mahomes threw the ball and it was not caught, hitting the grass. The Eagles were going to get 90 seconds to score and a chance to win the Super Bowl. Instead the Referees called a penalty on Eagles cornerback James Bradberry for holding Smith-Schuster. This gave the Chiefs a first down allowing them to run the clock down and win the super bowl. Many disagree on this call and it remains a controversial topic.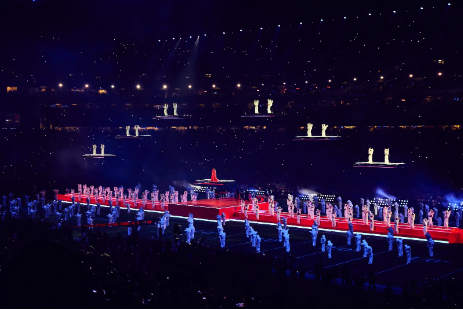 Damar Hamilin also made an appearance at the game. In the Bills game against the Bengals he collapsed and went into cardiac arrest. Luckily, amazing medical professionals got his heart beating again and is on the road to recovery. At the game he sat next to Donna Kelce, mother of Jason Kelce and Travis Kelce. This was the first time two brothers had played against each other in a Super Bowl, and she dressed for the occasion, with a split jersey and matching coat and one shoe representing each team. Talk about sibling rivalry.  

                            Damar Hamilin                                                    Donna Kelce  
Jason Kelce and Travis Kelce
Cites
https://en.as.com/entertainment/how-many-people-were-involved-in-rihannas-halftime-show-n/
https://theathletic.com/live-blogs/super-bowl-halftime-show-rihanna/NJMPH6rNCZ4d/
https://www.wired.com/story/super-bowl-rihanna-halftime-tech-flying/
http://www.cnn.com