The Crash of Ticketmaster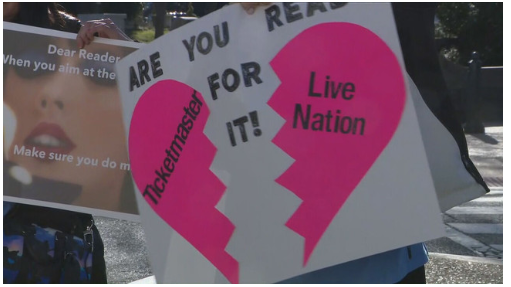 The Start of it All:
On November 15, 2022, Ticketmaster's website crashed due to Taylor Swift tickets. Due to this, the company has been accused of anti-consumer practices several times but due to the Taylor Swift tickets fiasco, this problem has come to the attention of many. According to NPR News. "Lawmakers are demanding answers about the company's operations." This statement shows there is more to this situation than just Taylor Swift tickets. 
As the demand for Swift tickets increases, due to her massive fanbase, the Ticketmaster website crashing lead to them canceling the presale of tickets. Unfortunately, this has caused many to be outraged leading to several protests. It has been brought to attention on social media platforms such as TikTok. Ticketmaster is now gaining the attention of the US Senate. Fans are suing Ticketmaster after the cancellation of Eras tour tickets. According to the New York Times "the Senate held a hearing that explored whether Ticketmaster and its parent company, Live Nation Entertainment, have an unfair monopoly over the live music industry."  
Anti-consumerism and Monopoly over the Music Industry
Anti-consumer practices are when a company such as Ticketmaster, has a moral that opposes consumerism and only benefits the sellers. It is no secret that Ticketmaster has a part in the music industry. From selling tickets to being one of the largest ticket sellers in the world, many believe that Ticketmaster has a so-called "scheme." The scheme is supposably forcing fans to use Ticketmaster to get the presale of tickets. Now, many call the Live Nation Ticketmaster the TicketSwindler at protests and claim this is a "Monopoly War." But in the end, the Senate has no intention to shut them down and it has such a big role, that a mistake like this does not cost them very much. 
Cites
https://www.nytimes.com/2022/11/17/arts/music/taylor-swift-tickets-ticketmaster.html?campaign_id=9&emc=edit_nn_20230129&instance_id=83979&nl=the-morning&regi_id=203945409&segment_id=123846&te=1&user_id=3fe21e664b55fe464921a4393ad1b5e4 
https://www.npr.org/2022/12/06/1140968805/taylor-swift-fans-ticketmaster-lawsuit 
https://www.nytimes.com/2023/01/29/briefing/ticketmaster.html 
https://www.google.com/url?sa=i&url=https%3A%2F%2Fwww.npr.org%2F2023%2F01%2F24%2F1150942804%2Ftaylor-swift-ticketmaster-senate-hearing-live-nation&psig=AOvVaw386c54sQqUMgX7VETxbLP_&ust=1676832104450000&source=images&cd=vfe&ved=0CAwQjRxqFwoTCKjvs8Pcn_0CFQAAAAAdAAAAABAc 
https://www.google.com/url?sa=i&url=https%3A%2F%2Fwjla.com%2Fnews%2Flocal%2Fprotest-washington-dc-ending-ticketmaster-live-nation-monopoly-free-britney-america-outside-us-capitol-ticketing-industry-taylor-swift-fans-fraud-anti-trust-violations-music-dmv&psig=AOvVaw3nxI3Gd4tQ5rg68WbW5LA5&ust=1677078465073000&source=images&cd=vfe&ved=0CAwQjRxqFwoTCLjevrjypv0CFQAAAAAdAAAAABAD