Greta Thunberg Arrest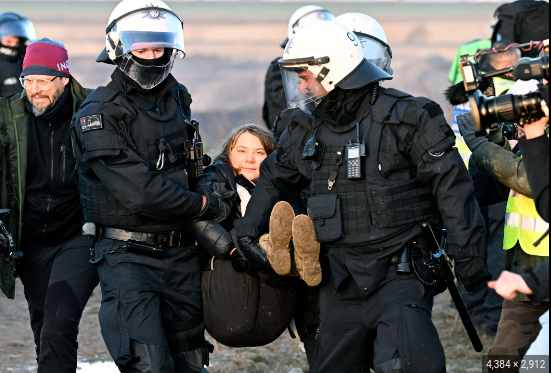 Greta Thunberg was detained by police twice at a climate protest in Germany. Greta joined a crowd of protesters in Lützerath, Germany to push back against the demolition of the town. Thunberg and the others broke through police lines as they gained the attention of the coal company that was planning their expansion there. 
The History – 
For over a decade, the Garzweiler coal company has been fighting for the takeover of Lützerath in order to place their coal mine. Just recently, they have gotten the go-ahead to evict the citizens of the town, and expand their mines. This has cleared out the entire village, and forced the citizens to relocate. The town was founded in 1168, and has sustained a small, but stable population until now. Some of the protesters have been in Lützerath for over 2 years now, but have not made notable progress, as the courts have sided with the coal company. These protesters also argue that the completion of this mine would violate the terms of the Paris climate agreement, as its environmental effect would be notable.
The Controversy – 
Greta Thungberg smiled as she was taken by police. Thungberg was protesting among many activists against the demolition of the coal village of Lützerath two weeks ago on Tuesday. Many others were not detained, but forced to give their information to police. No protesters were in, or sent, to jail. Many people believe the controversy was staged, in order for Thungberg to get the media's attention. Thungberg denies any allegation towards staging this detainment, and has previously said she has never staged an arrest in order to get the media's attention, but truly holds protests in order to get the people's attention. 
Cites 
https://www.cnn.com/2023/01/17/us/greta-thunberg-detained-germany-climate/index.html
https://www.foxnews.com/media/video-greta-thunberg-arrested-sends-twitter-frenzy-time-many-more-stand-up
https://www.google.com/url?sa=i&url=https%3A%2F%2Fwww.nbcnews.com%2Fnews%2Fworld%2Fgreta-thunberg-climate-activist-detained-germany-coal-mine-protest-rcna66123&psig=AOvVaw2BFtcPfDQQhZEFOAJ9Vj65&ust=1676561433685000&source=images&cd=vfe&ved=0CAwQjRxqFwoTCPCej5rsl_0CFQAAAAAdAAAAABAD