Recipes – January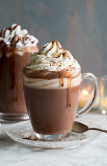 Ingredients:
2 tablespoons unsweetened cocoa powder (Dutch processed, if possible)

Pinch of Salt

⅛ teaspoons vanilla extract

2 teaspoons of hot water

1 cup reduced-fat milk

2 teaspoons of sugar
Directions:
Microwave
In a microwave safe mug, combine the cocoa powder, salt, and vanilla extract. 

Add the hot water and combine until it forms a paste.

Add the milk, leaving an inch from the rim of the cup. 

Microwave it for a minute on high, being careful so that the milk does not boil over. 

Stir in the sugar and serve. 

Enjoy!
Stovetop
Heat the milk, salt, vanilla, and sugar in a small saucepan over medium to low heat until scalding (very hot). 

Make sure the milk does not start to boil.

Combine the cocoa powder and water in a mug, and carefully add the hot milk mixture. 

Stir until blended.

Enjoy! 
Cites
https://www.foodnetwork.com/healthyeats/2014/12/ditch-the-packets-and-make-a-great-cup-of-hot-cocoa
https://www.cookingclassy.com/wp-content/uploads/2018/10/hot-chocolate-15.jpg