January Movie Reviews – Avatar 2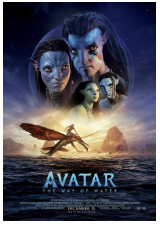 WARNING: SPOILERS FOR AVATAR 1 AHEAD!!
"Avatar: The Way of the Water" is a recently released Sci-Fi action film. It is the sequel to "Avatar". "Avatar: The Way of the Water" is about the humans returning to the Avatar world and trying to get back at Jake Sully for "betraying" them in the first movie. It is also about a budding family between Jake Sully in avatar form, and Neytiri. In this movie, we learn more about life in Pandora, and many new characters are introduced, one of my personal favorites being Spider. This movie is still in theaters and you can go and see it in 3D which is a whole other experience! I personally recommend this movie, but I also would recommend seeing the first movie so that you can understand what's happening. This movie is really good and honestly kind of inspiring! Starring in this movie are Sam Worthington, Zoe Saldaña, Sigourney Weaver, and Stephen Lang. 
Cites
https://m.media-amazon.com/images/M/MV5BYjhiNjBlODctY2ZiOC00YjVlLWFlNzAtNTVhNzM1YjI1NzMxXkEyXkFqcGdeQXVyMjQxNTE1MDA@._V1_.jpg