Elementary Book Reviews – January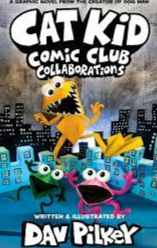 The newest Cat Kid Comic Club is here! Join Naomi, Melvin, Poppy, Curly, and Gilbert as they learn to make comic books and tell their froggy adventures.
With stories like: "Frogzilla", "Mallo Cop", and "Chubbs McSpiderButt", you will be rolling with laughter. Check out the new Cat Kid Comic Club at the Flagstaff Academy library today!