Brittney Griner Is Released From Russia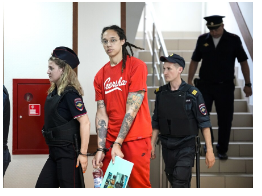 After months of waiting to be released, Brittney Griner was sent home to the U.S. Griner was born on October 18, 1990, to Raymond Griner and Sandra Griner. Growing up she got bullied often due to her physical appearance, but made her debut in highschool. At the height of 5'8" by the time she was 14, her highschool's basketball coach invited her to try out for the team. She was accepted, and immediately fell in love with the sport. As a senior, she set national basketball records, and many scholarships came in. Through basketball, Griner found her sexuality. She came out to her parents as lesbian. Her mother accepted it, but her father, to this day, doesn't talk about her sexuality. 
Griner attended Baylor University, on a basketball scholarship. She later joined the Phoenix Mercury's basketball team, and was a part of the WNBA. While traveling to Russia for a game, Griner was caught with Vape cartridges. This went against Russian law, causing her to be charged with jail time. Her reasoning for having these were because they were "prescribed by her doctor." William Pomeranz, who is the director of the Wilson Center Kennan Institute, says Griner's sentencing "did not come as a surprise." Pomeranz is an expert in Russian law, and says that Russian laws treat drug offenses incredibly harshly. 
In August Griner was sentenced to nine years in prison; her appeal was denied on October 25, 2021. After ten months of Griner being detained in Russia, she was finally sent back home to the U.S. This was made possible by the Biden Administration's agreement to send arms dealer Viktor Bout back to Russia. Bout was being detained in the U.S. on a 25-year sentence due to selling ten of millions of dollars worth in weapons. These weapons were said to be "used against Americans." 
Griner was released on December 8, 2022. She landed on a Friday morning in San Antonio, Texas. Many decisions are yet to be made, but after ten months, Griner is finally free.  
Cites 
https://www.nytimes.com/article/brittney-griner-russia.html#:~:text=star%20and%20two%2Dtime%20Olympic,years%20in%20a%20penal%20colony.
https://www.espn.com/wnba/story/_/id/34877115/brittney-griner-russia-drug-case-line-prison-trial-more#:~:text=Griner%20was%20sentenced%20to%20nine,finish%20her%20overseas%20season%20there.
https://abcnews.go.com/International/expert-explains-russian-law-brittney-griner-sentencing/story?id=88000975
https://www.nbcnews.com/news/us-news/wnba-star-brittney-griner-arrives-us-release-russian-custody-rcna60906
https://www.google.com/url?sa=i&url=https%3A%2F%2Fwww.kut.org%2Fsports%2F2022-07-07%2Fbrittney-griner-pleads-guilty-to-drug-charges&psig=AOvVaw3a3I5x45bcQP05DrKLlRHR&ust=1673449801835000&source=images&cd=vfe&ved=0CAwQjRxqFwoTCNDv3dOkvfwCFQAAAAAdAAAAABBG