Flagstaff Academy 2022 STEM Fair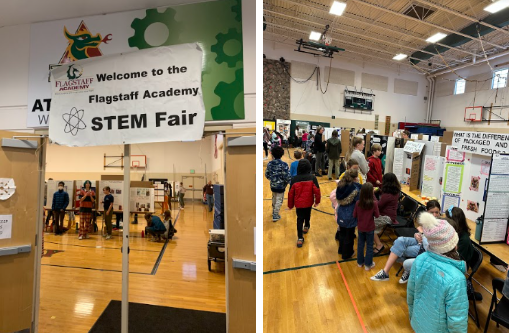 Beginning in late September of 2022, the Flagstaff students have been diligently working on their STEM Fair Projects. All of the Science teachers have been carefully leading them through the process, all watched over by Ms. Liedtke. Every single project was extremely unique! 
On December 13th, Flagstaff hosted its yearly STEM Fair. This is an optional and competitive event. More than a hundred and fifty students competed in the competition. Of a total of one hundred eleven teams, twelve made it past the first round of competition. The Flagstaff STEM Fair is a qualifying event for the Regional STEM Fair happening in late February. Her are the qualifying projects: 
The top three:
In third place:
Rahul Agarwal – N0-Waste Hot Water Dispenser 
In second place:
Diya Mehta – Environmental Effects of Sea Urchin Embryology
And in first place! 
Charlie Danko – An Affordable Robot For Dangerous Factories
The runner ups (in no particular order): 
Victor Wang – Password Strengthener
Maya Rokhlenko & Olive Spohn – Water = Bad, Your Solution to Not Seeing in Rain
Elyse Prestopnik – Forever Chemicals in Children's Sleepwear 
Stellan Harrell & Seamus Forespring – Parkinson's Disease Medical Aid
Sienna Wood – What Do Conflicting Mental Tasks Reveal About Your Brain?
Emma Schott – Small Portable Trash Compactor.
Bella DeNicholas & Mandy Roth – Does jumping higher result in a horse landing with more force?
Kendall Toothaker – Biometric Locker 2.0 
Kassidy Brackett – Buildings vs Earthquakes
As well as these exemplary students, there are also a few who qualified for the Regional STEM Fair but will not be participating. These are: 
Elizabeth Robbins – What are the effects of exercise on Type One Diabetes?
Lakshmi Thanikasalam – How does ambient temperature affect different types of batteries' charge retention?
We wish all of these Dragons the best of luck and know they will do an amazing job at the Regional STEM Fair!