EF Tours to Europe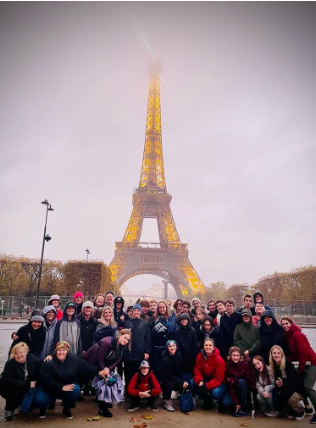 From November 14 to November 23, 2022, nearly thirty Flagstaff Academy students went on a trip with EF tours to four European countries. They began the journey in Ireland, exploring Dublin for two days. They then traveled to Wales by Ferry, and spent a day exploring the beautiful landscape of Conwy, an ancient town with a castle! From there, they went to Stratford upon Avon- the birthplace of Shakespeare. After that, they spent time in London and many even visited the London eye! Finally, they set off for Paris, and they spent time visiting some of the greatest landmarks in the country.
A few other trips are coming up soon, and they are great opportunities for you to explore the world too! These include:
Summer 2023: Historic Boston!
Spring 2023: Italy!
Summer 2024: Washington D.C.!
Spring 2024: Thailand!
All of these trips are a great way to learn about other countries, and research cultures from around the world. If you are able to, we would heavily recommend taking the opportunity to do so. If your family needs, financial support is available. Also, parent or guardian chaperones are needed, so they are welcome to come along. If you are interested in going on one of these trips, feel free to do some research, and more information will be sent out soon.
Here are some pictures from the trip: