December Tricky Trivia – Jellyfish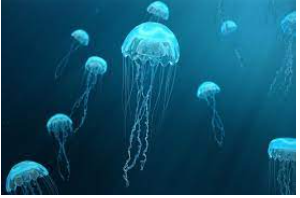 Questions:
How long have jellyfish existed?
 How many jellyfish species are there?
What percentage of jellyfish is made out of water?
 Which type of jellyfish is said to be immortal? 
Answers:
More than 600 million years!
About 300,000 different species!
98% water! Jellyfish also do not have brains!
The Turritopsis Dohrnii jellyfish!
Citations
https://www.oneearth.org/five-jaw-dropping-facts-about-jellyfish/
https://www.foodnavigator.com/Article/2019/07/30/Jellyfish-A-new-sustainable-nutritious-and-oyster-like-food-for-the-Western-world