Useless Complicated Information Of Useless Animals- October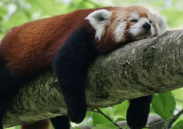 About three percent of ice in Antarctic glaciers is penguin pee.

Kangaroos cannot walk backwards. 

Giraffes don't have vocal cords.

A moose calf can outrun a human at just five days old.

The word gorilla comes from a Carthaginian word that roughly translates to "Harry Person".

According to the World Health Organization, The deadliest animal on the planet is a mosquito, they kill roughly 725,000 people a year. 

 The Mayfly lives for only 24 hours.

A group of young parrots is called a "pandemonium".

Kangaroo farts contain no methane. 

Male seahorses can become pregnant and give birth.