STEM Fair National Qualifiers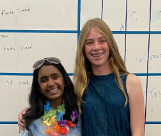 This past week, we received some amazing news: Mandy Roth and Lakshmi Thanikasalam have made it to the National level at the STEM fair Broadcom Masters competition!! This National competition only accepts 300 people out of more than 1,500 entries. On September 21, 30 of the top 300 will be named finalists and will compete for over $100,000 in prizes! 
Interview Questions:
What is your STEM Fair Project?
Mandy: Does Jumping Higher Result in the Dog Landing with more force? An investigation in understanding and preventing injuries in performance dogs.
Lakshmi: My STEM Fair Project was Investigation and exploring capillary action. 
Why did you choose this project? What inspired you?
Mandy:I chose this project because I wanted to learn more about understanding and preventing injuries in dogs because I am very passionate about it and I want the dogs to be able to keep performing for longer.
Lakshmi: I chose my project because I want to be in the medical field when I grow up and understanding capillaries, which are the smallest arteries in the body,understanding the small things help understanding the bigger things. 
How did you come up with your STEM Fair project idea?
Mandy: I came up with my STEM fair project because I show my dogs agility and I wanted to see if larger dogs jumping higher would cause them to be more prone to injury. So, I chose to find a low cost method to test it. 
Lakshmi: I came up with my idea when I was looking at articles that my dad sent me, and I saw one on capillaries and thought it was very cool and I thought l could somehow incorporate that into a STEM fair project.
Are you excited to represent Flagstaff and Boulder County?
Mandy: Yes! I am very excited to represent Flagstaff and Boulder County.
Lakshmi: For Sure! I'm very excited to represent my school and the state!
Do you think that you will be in the top 30?
Mandy: I would say that since only seven kids made it to the Broadcom competition from Colorado, I am already very proud. And while I would love to make it into the top 30, I know that there are other truly amazing competitors out there. 
Lakshmi: Probably not. This is because about fifty of the participants of the 300 have done it before so they have more experience than me. 
How did it feel when you learned that your STEM Fair project is in the top 300 projects?
Mandy: I was SO excited that in my first year competing in the STEM fair I did so well in the competition and I was honored to be in this outstanding competition and that I get to compete against all these great competitors!
Lakshmi: Funny story: I almost broke a door. I was so excited that I slammed the front door to tell my mother.