Recipe of September- Summer Garden Pasta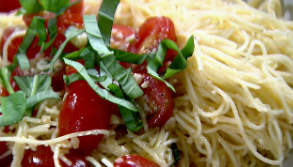 Ingredients:
4 pints of cherry tomatoes, halved

½ cup olive oil

2 tablespoons of minced garlic (6 cloves)

18 large basil leaves, cut into short thin strips, plus extra for serving

½  teaspoon crushed red pepper flakes

Kosher salt

½ teaspoon freshly ground black pepper

1 pound dried angel hair pasta

1 ½  cups freshly grated Parmesan cheese, plus extra for serving
Directions:
Combine the cherry tomatoes, the olive oil, garlic, basil leaves, red pepper flakes, salt, and the pepper in a large bowl. Then cover the bowl in plastic wrap and set one aside to sit for about four hours.

Just before you're ready to serve, bring a large pot of water with a splash of olive oil, and 2 tablespoons of salt to a boil. Add the pasta. Cook the pasta according to the directions on the package (Be careful – it only takes 3 to 4 minutes!). Drain the pasta and add it to the bowl containing the cherry tomatoes. Add the cheese and some extra fresh basil leaves and then toss well. Serve in big bowls with extra cheese on each serving. Enjoy!
Cites:
https://www.foodnetwork.com/recipes/ina-garten/summer-garden-pasta-recipe-1925046