New Teacher Feature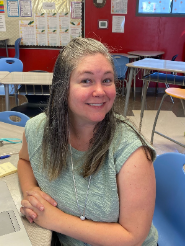 What grade are you teaching? – "I am teaching mostly 8th Grade, but I'm also teaching 6th, 7th, and 8th graders for advisory and speech and debate."
Where are you originally from? – "I am from Pensacola, Florida."
What do you like to do in your free time? – "In my free time, I like to play with my dog and cats, spend time with my family, go to live concerts, and take walks in nature."
How long have you been teaching (at any school)? – "This is my 12th year."
What college did you go to? – "I went to the University of West Florida. Go Argonauts!"
Anything else you would like to share? – "We're going to make this a great school year, together!