Ukraine Independence Day is No Cause for Celebration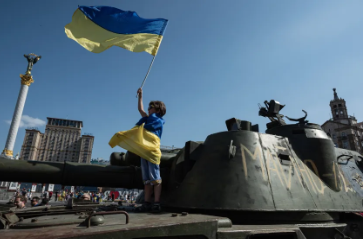 August twenty-fourth marks two very important dates for Ukraine: Ukraine's 31st Independence Day and six months since the beginning of the Russia-Ukraine war. In the days before August twenty-fourth, Ukrainians everywhere were scared of what was to come. Many annual celebrations were canceled, and people fled to cities further from the capitol. 
The day had come, and the anticipation for something horrible was high. Something horrible happened indeed. Not one highly notable lethal bombing occured, but three. 
The first death was of an eleven year old boy. While his death was not caused by the bomb itself, he died in the aftermath. The bomb hit his house, and the young boy tragically died in the resulting collapse of the building. 
On the battlefield, the soldiers for Ukraine have also gotten plenty of bombings. The Russian forces hit multiple towns and villages on the east side of Ukraine, killing one. 
The third, even more frightening bombing struck the city of Chaplyne, a fairly small town in the Dnipropetrovsk region. President Volodymyr Zelenskyy said that "Chaplyne is our pain today," after a bomb hit a train, striking five civilian rail cars, killing at least twenty-five. President Zelenskyy has stated that a minimum of fifty have been injured. Not only that, but Russia also shelled many more cities in the region, damaging buildings, wounding civilians, and causing distress for many Ukrainians. 
President Zelenskyy had been repeating again and again in the week prior that Russia "may try to do something particularly nasty, something particularly cruel," in the week of Independence Day. 
While the end of the war is nowhere in sight, there is some good news for Ukraine. President Zelenskyy spoke with American President Joe Biden to thank him for his ongoing support and generous nearly three billion dollar aid package. 
Ukrainians continue to experience the war, and as they try to maintain hope, they fight for their country. Whether it is as a soldier or as a civilian who does not give up on his country, they show the world the resilience and grit of the Ukrainian people.
Work Cited: 
https://www.cnn.com/europe/live-news/russia-ukraine-war-news-08-24-22/index.html
https://www.pbs.org/newshour/world/russian-rocket-kills-15-at-ukraine-train-station-in-independence-day-attack-zelenskyy-says
https://abcnews.go.com/International/wireStory/ukraine-marks-independence-day-months-start-war-88780564
https://www.cnbc.com/2022/08/25/russia-ukraine-live-updates.html
https://chicago.suntimes.com/2022/8/23/23317073/media-war-ukraine-vladimir-putin-richard-cherwitz-op-ed
https://www.nbcnews.com/news/world/22-reported-killed-rocket-attack-ukraine-independence-day-rcna44731