Recipes of April: Lemon Poppyseed Cookies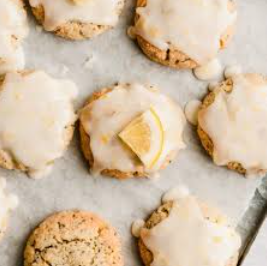 Ingredients
Makes 12
For the wet ingredients:
1/4 cup melted and cooled coconut oil (or sub melted butter or vegan butter)
1/3 cup organic cane sugar (or sub coconut sugar)
1 egg, at room temperature
1/2 tablespoon fresh lemon juice
1/4 teaspoon almond extract⠀
zest from 1 large lemon (about 1 tablespoon lemon zest)
For the dry ingredients:
1 cup packed fine blanched almond flour
2 tablespoons coconut flour
1 tablespoon poppy seeds
1/4 teaspoon baking soda⠀
1/4 teaspoon salt
Optional for rolling the cookies:
1/4 cup granulated sugar
For the lemon glaze:
1/2 cup powdered sugar⠀
1 tablespoon fresh lemon juice, plus more if necessary to thin
1 teaspoon lemon zest
Steps
Step 1:
Preheat the oven to 350 degrees F. Line a baking sheet with parchment paper.
Step 2:
In a large bowl, mix together the wet ingredients: melted and cooled coconut oil, sugar, egg, fresh lemon juice, almond extract & lemon zest. Mix until smooth and combined.
Step 3:
Add in the almond flour, coconut flour, poppy seeds, baking soda and salt. Stir to combine. Let dough sit for 5 minutes. Roll into 12 balls. If you want you can roll each ball in a bit of sugar. Place cookie dough balls 2 inches apart on a baking sheet. Gently flatten slightly with your hand. Bake for 10-12 minutes. Let cool completely on a baking sheet.
Step 4:
Make the glaze by mixing together the powdered sugar, fresh lemon juice and lemon zest until smooth. place about a 1/2 tablespoon over each cookie. Enjoy! 
Cites:
https://www.ambitiouskitchen.com/paleo-lemon-poppyseed-cookies/