Recipes of February: Chocolate Covered Strawberry Mini Cheesecake Bites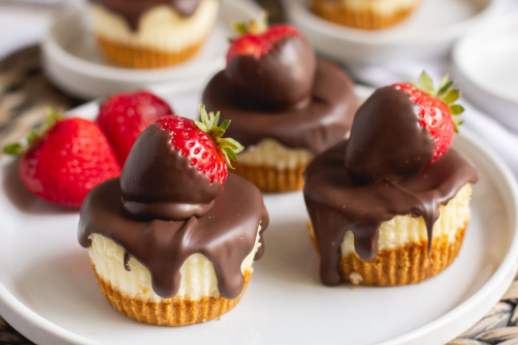 Prep Time:

20 minutes

Cook Time:

28 minutes

Total Time:

3 hours, 15 minutes

Yield:

12-15 mini cheesecakes 

Category:

Dessert

Method:

Oven

Cuisine:

American
Ingredients
FOR THE CRUST:

1 c. graham cracker crumbs

4 TB unsalted butter, melted

1/4 c. granulated sugar

pinch of salt

FOR THE FILLING:

16 oz. cream cheese, room temperature

2 eggs, whites and yolks separated at room temperature

3/4 c. granulated sugar

1/2 tsp salt

1 tsp vanilla extract

dash of granulated sugar

HARD SHELL TOPPING (PICTURED)

10 oz. chocolate melting wafers

12 – 15 strawberries

GANACHE TOPPING (OPTIONAL)

4 oz. chocolate, shaved or chopped finely

1/2 c. heavy cream

1/2 tsp. vanilla

TOOLS

cupcake liners

hand mixer or stand mixer

12 or 24 cup muffin tin
Instructions
Preheat the oven to 375°F.

In a small bowl, combine the graham cracker crumbs, sugar, salt and melted butter. Place cupcake liners in a 12 cup muffin tin and begin dropping rounded Tablespoons of the graham cracker mixture into each liner. Press the crumbs into the bottom of the liner lightly, creating a crust. There may be some crumbs left over.

Pre-bake for 8 minutes, then remove from the oven and reduce temperature to 350°F.

In a large bowl or the bowl of a stand mixer, beat together the cream cheese, granulated sugar, salt and vanilla extract until fully combined and creamy. Beat in the egg yolks one at a time.

In a small bowl using a whisk or hand mixer, beat the egg whites until frothy and doubled in size.

Gently fold the egg whites into the cream cheese, mixing to a smooth yet thin consistency, then divide among the 12 muffin liners until the cups are almost full. You may have a little bit of leftover mixture, which you can use with the extra graham cracker crumbs to make a bakers dozen or discard.

Bake for 20 minutes. Let rest at room temperature for 20 minutes until the filling returns to its normal shape. Don't worry about cracks in the surface, as you'll be covering them with chocolate.

Chill for a minimum of 2 hours before topping.
HARD SHELL TOPPING
Using a double boiler, gently melt your chocolate, stirring occasionally to combine. (Alternatively, microwave in 30 second intervals, stirring each time)

At this point, you can keep the cheesecakes in their liners or choose to remove them to get results like the picture above.

With a regular kitchen spoon, pour chocolate on top of the cheesecakes making sure to coat the entire surface. (Gently press melted chocolate over the edges to get the dripping effect above) Wait until the chocolate on the cheesecakes harden before dipping the strawberries in the bowl of melted chocolate and resting on top of each cheesecake. Keep chilled until ready to serve.
GANACHE TOPPING
Heat the heavy cream and vanilla in a saucepan until it starts to steam. Add the chocolate shavings and let sit for a minute to melt. Stir gently until just combined. Over-mixing may cause the chocolate to seize.

Pour spoonfuls of the ganache on top of each cheesecake and gently press over the edges to get the dripping effect. Dip each strawberry in the ganache and gently twirl off any excess, then place one on top of each mini cheesecake. Keep chilled until ready to serve.
Cites: https://www.awayfromthebox.com/chocolate-covered-strawberry-cheesecakes/