January History of the Month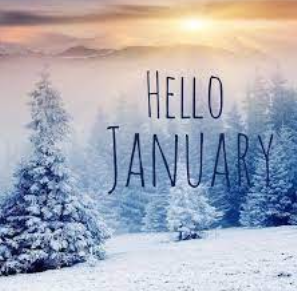 January 1st: 45 BC –  The Julian calendar was first used.
January 2nd: 1947 – Mahatma Gandhi begins his march for peace in East Bengal.
January 3rd: 1888 – Marvin C. Stone patents the drinking straw.
January 4rth: 1790 – President George Washington delivers the first State of the Union Address.
January 5th: 1972 – President Richard M. Nixon signs a $5.5B over 6 years to build and test a space shuttle.
January 6th: 1975 – The television game show "Wheel of Fortune" first premieres.
January 7th: 1610 – Astronomer Galileo Galilei discovered four of Jupiter's moons.
January 8th: 2007- Apple introduces the 4.5 inch X 2.4 inch Apple iPhone.
January 9th: 1951 – The United Nations opens its headquarters in New York City.
January 10th: 1863 – The world's first underground passenger railway system opens in London, England.
January 11th: 2010 – Haiti was hit by a massive magnitude 7.0 earthquake.
January 12th: 1966 – Batman debuts on television.
January 13th: 1943 – Germany's Adolf Hitler declares "Total War" against the Allies.
January 14th: 1784 – The United States of America ratifies a treaty with England ending the Revolutionary war.
January 15th: 1967 –  Green Bay beats Kansas City in the first NFL Super Bowl in the Los Angeles Memorial Coliseum.
January 16th: 1547 –  Ivan the Terrible becomes Tsar of Russia.
January 17th: 1949 – The first Volkswagen Beetle in the U.S. arrived from Germany.
January 18th: 1778 – Captain James Cook discovers the Hawaiian Islands.
January 19th: 1920 – Palmer Raids and rounds up 4,000 Radical Leftists in the United States.
January 20th: 1981 – At 69 years, 349 days old, Ronald Reagan becomes the oldest person to become U.S. president.
January 21st: 1915 -The first Kiwanis club is formed in Detroit.
January 22nd: 1901 – Queen Victoria passed away in the Osborne House on the Isle of Wight.
January 23rd: 1556 – The deadliest earthquake in history strikes Shansi, China, killing 830,000 people. 
January 24th: 1976 – The first Concordes with commercial passengers take off From London's Heathrow Airport and Paris Orly Airport.
January 25th: 1924 – The first Winter Olympic games begin in Chamonix, France.
January 26th: 1875 – The Dental Drill was patented. 
January 27th: 1945 – The Russians liberate Auschwitz in WWII.
January 28th: 1986 – The space shuttle Challenger explodes just after liftoff.
January 29th: 1959 – Disney releases the animated film Sleeping Beauty to theaters.
January 30th: 1948 – Mahatma Gandhi was assassinated in New Delhi.
January 31st: 1953 – The Great Storm Strikes Netherlands England and Belgium.
Cites: https://holidayinsights.com/history/history01.htm
https://www.csbeautyschools.com/january-salon-and-spa-specials/
https://www.thepeoplehistory.com/january.html