STEM Fair Competition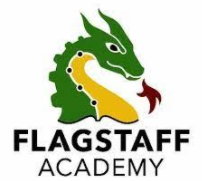 The STEM Fair competition was on 12/14/21, lot's of middle schoolers participated. 3rd place was Kendall Toothaker with a Biometric Locker. 2nd place was Elyse Prestopnik with the project Effects of Sound on Word Recognition. And in first place was….. Eli Krause with the project Learning Using Games! 11 other people qualified for the next level STEM fair competition:  
Anna Prok: Never Kill a Plant Again
Charlie Danko: A Claw for Arthritis
Lakshmi Thanikasalam: Capillary Action Investigation and Empirical Modeling
Katrina Hack: Comparative Soundwave Quality
Milo Peterson: Flagstaff Air Quality
Mandy Roth: Does Jumping Higher in a Dog Result in More Force?
Daniel Simmonds: Pre Workout Safer and Healthier Pre Workout for Youth
Cole Ingebretson: Science of Spin
Bella DeNicholas: New and Reusable Breakaway Halter
Diya Mehta: Heartburn Home Remedies Fact or Myth
Victor Wang: Password Generator Advanced
Cites
https://www.flagstaffacademy.org/