Horoscopes in December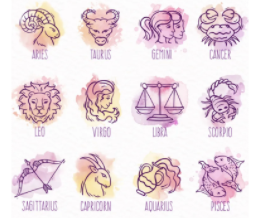 Aries (March 21 – April 19): You might get a very unexpected present this year.
Taurus (April 20 – May 20): If you celebrate Christmas, make sure to give Santa a present.
Gemini (May 21 – June 20): Make sure you bring extra clothes to keep you warm! You might need them some day.
Cancer (June 21 – July 22): If you celebrate Christmas, watch out! You might find something…interesting in your stocking this year!
Leo (July 23 – August 22): Enjoy the snow while it lasts. Try making the best snowman out there. You will have great luck!
Virgo (August 23 – September 22): If you make sure everyone you care for is getting presents they like, everyone will also do the same for you!
Libra (September 23 – October 22): Spend this winter wisley. It will be the best winter of your life if you want it to be.
Scorpio (October 23 – November 21): Learn about all of the holidays in December. They all have very interesting backstories, and I assure you; you will enjoy learning about it and it will come in handy in the future.
Sagittarius (November 22 – December 21): If you celebrate a holiday that is not Christmas, Kwanzaa, or Hanukkah, you will have great luck at the beginning of winter. If you do, you will have great fortune all of December.
Capricorn (December 22 – January 19): If you celebrate Kwanzaa, make sure to help with planning celebrations and making the food. It will be helpful to others, and yourself.
Aquarius (January 20 – February 18): If you celebrate Hanukkah, make sure to be careful around the candles!
Pisces (February 19 – March 20): Have super happy holidays! Live every moment to the fullest. For example, try making a new recipe!
Citations:
https://www.pinkvilla.com/lifestyle/people/aries-libra-cancer-virgo-who-are-active-and-receptive-zodiac-signs-astrology-708813