November Horoscopes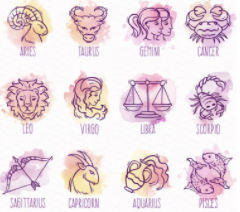 Aries (March 21 – April 19): Make sure you count your blessings.
Taurus (April 20 – May 20): There are at least fifty-six people right now who are thankful for you.
Gemini (May 21 – June 20): Watch out for the turkeys! They may want to get revenge on you for eating them. 
Cancer (June 21 – July 22): Don't eat too much Thanksgiving dinner! Trust me. 
Leo (July 23 – August 22): Look at all the leaves changing colors. You will not see it for long.
Virgo (August 23 – September 22): If you help out with making food on Thanksgiving, something good will come.
Libra (September 23 – October 22): Thanksgiving is not the only exciting thing that will happen this month. 
Scorpio (October 23 – November 21): Show thanks to all your teachers. They really need it. 
Sagittarius (November 22 – December 21): Think of one thing every morning that you are grateful for. 
Capricorn (December 22 – January 19): Try making Pilgrim crafts with your family. You will have a fun time! 
Aquarius (January 20 – February 18): Have Thanksgiving dinner with all your family and friends if you can. 
Pisces (February 19 – March 20): Learn everything about the Pilgrims. It will come in handy later!
Cites: 
https://www.pinkvilla.com/lifestyle/people/aries-libra-cancer-virgo-who-are-active-and-receptive-zodiac-signs-astrology-708813