Recipes – November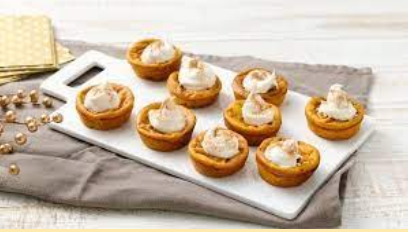 MINI PUMPKIN PIES:
Ingredients:
Pie crust – you will need 125 grams of pie dough (or one single 9-inch pie crust). Pumpkin puree – You can use canned pumpkin puree or homemade puree. If you are using canned pumpkin, make sure it is pure pumpkin and not pumpkin pie filling.

Condensed milk

Brown sugar

Pumpkin spice blend

Salt

Egg

Whipped cream – optional, for topping.
Directions:
Make the pumpkin pie filling: In a large mixing bowl, whisk together pumpkin puree, condensed milk, brown sugar, pumpkin spice, and salt. Add in egg and whisk into smooth and even mixture. Set aside.

Roll out the pie dough: Roll the pie dough into a large circle approximately ⅛-inch thick. Use a 3.5-inch round cookie cutter (or the rim of the pumpkin puree can) to cut out 9 circles. Use any scrap pieces of pie crust to cut out small pieces for garnish on top such as leaves.

Shape the pie crust: Gently press each pie dough circle into each cavity of a standard 12-cup muffin pan and snuggly fit it in. It will cover up to half of the height of each cavity (it will not completely come up to the top). You will fill 9 cavities. Do not over stretch the pie crust to maintain even thickness. Then, use a fork to pleat the edges of the crust.

Assemble the pumpkin pies: Add about 1.5 tablespoons of pumpkin filling into each pie crust, filling it about ¾ of the way up to the top of the crust. Do not overfill as the filling will expand during baking. If you have small shapes that you cut out from the scraps, you can place them on top.

Bake: Transfer the muffin pan into the preheated 375 F oven and bake for 20 minutes until the crust is lightly golden brown and the pumpkin filling is set. Remove the muffin pan from the oven and let it rest at room temperature for at least 20 minutes.

Enjoy!
Cites:
https://www.aheadofthyme.com/mini-pumpkin-pies-small-batch/
https://www.bettycrocker.com/recipes/impossibly-easy-mini-pumpkin-pies/29854cdf-9068-4bf2-bacc-0696cd74887e