October Horoscopes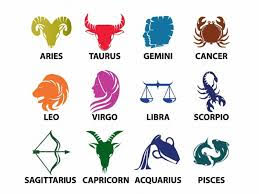 Aries (March 21 – April 19): If you have many ideas for costumes, choose the first idea you have.
Taurus (April 20 – May 20): Be brave around the scary house, they give out the best candy.
Gemini (May 21 – June 20): Be ambitious! Try and make your own costume.
Cancer (June 21 – July 22): Don't eat too much candy at once, save it for later.
Leo (July 23 – August 22): Group costumes are fun! Ask your friend if they want to do one.
Virgo (August 23 – September 22): Watch a scary movie with your family and something exciting might happen.
Libra (September 23 – October 22): Trick-or-Treating isn't the only thing that will happen today.
Scorpio (October 23 – November 21): Look for costume deals at the store, you might find something good!
Sagittarius (November 22 – December 21): Save your costume, it could come in handy later.
Capricorn (December 22 – January 19): Don't do the "Trick" part of Trick-or-Treat, something bad might happen.
Aquarius (January 20 – February 18): If you can, go Trick-or-Treating with a friend!
Pisces (February 19 – March 20): You'll get some very big candy bars!