Horoscopes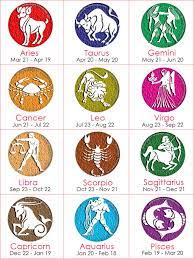 Aries (March 21 – April 19): Take time to stop and smell the fall flowers, they might give you insight on something important.
Taurus (April 20 – May 20): You'll get a big leaf pile to jump in!
Gemini (May 21 – June 20): Take advantage of the warm weather while it lasts.
Cancer (June 21 – July 22): Tea and coffee will become your best friend this season.
Leo (July 23 – August 22): Even though it's not Thanksgiving, take time out of your day to be thankful.
Virgo (August 23 – September 22): Blue and red are colors you should be cautious around, while orange and yellow are colors to trust.
Libra (September 23 – October 22): Keep up with your schoolwork, you might get a surprise from your teacher.
Scorpio (October 23 – November 21): If you have a good idea, try to put it in action!
Sagittarius (November 22 – December 21): Raking the leaves won't take very long this year.
Capricorn (December 22 – January 19): Try new things! You might find a new hobby.
Aquarius (January 20 – February 18): Don't worry about keeping up with drama, it's not that interesting.
Pisces (February 19 – March 20): Find someone you can confide in, they can help keep your secrets.