September Recipes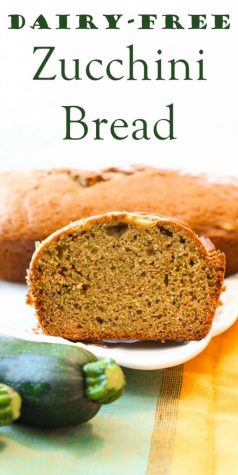 Serves: 20 to 24 servings
Ingredients
2 cups sugar
1 cup non-GMO canola oil or your favorite baking oil
3 eggs
1 teaspoon vanilla extract
2 cups all-purpose flour
1½ cups whole wheat flour
2 teaspoons baking soda
1 teaspoon salt
1 teaspoon ground cinnamon
½ teaspoon ground nutmeg
2 cups shredded zucchini
1 to 2 cups raisins, chopped nuts, or dairy-free chocolate chips (optional)
Instructions
Preheat your oven to 350ºF.
1. In a large bowl, whisk together the sugar, oil, eggs, and vanilla.
2. In another large bowl, whisk together the flours, baking soda, salt, cinnamon, and nutmeg.
3. Add the dry ingredients to the wet mixture and stir to combine. The dough will be very stiff.
4. Stir in the zucchini and any optional ingredients, if using, until combined.
5. Divide the batter evenly between two 8×4-inch loaf pans.
6. Bake for 1 hour or until a toothpick inserted into the center of a loaf comes out clean.
7. Let the loaves cool in the pans for a few minutes, then remove them to a baking rack to cool completely.
8. Store the loaves in an airtight container for up to 2 days. I am told this bread freezes well, but it has never made it to the freezer in our house!
Citations: